Chroma Systems Solutions contributed to the production of the short independent film Dog It Down in Los Angeles, California. The film, set in WWII Pearl Harbor, won Best Short Film at the 2012 Hollywood Reel Independent Film Festival and was recently announced as an official selection for the 2013 GI Film Festival (GIFF) in Washington, DC. The entire film was shot aboard the S.S. Lane Victory in San Pedro, CA. The S.S. Lane Victory served with distinction during World War II, the Korean War, and the Vietnam War.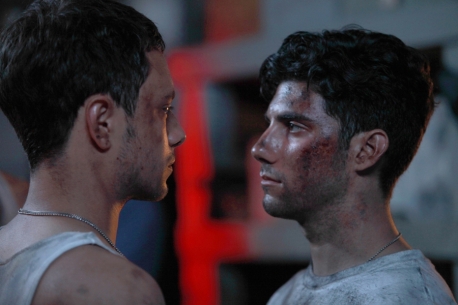 Directed by Mark Haapala the film's story takes place on Dec. 7, 1941. Three U.S. Navy Sailors became entombed aboard the USS West Virginia during the Japanese attack on Pearl Harbor. 'Dogged Down' inside an airtight storage supply room, the men managed to stay alive for 17 arduous days on the bottom of the ocean floor; living off of canned peaches and a limited water supply, before ultimately succumbing due to a lack of fresh air on Christmas Eve. Based on actual events, this story of hope and courage was written by Adriane Coros and Jim Landis. The film stars Andy Cohen, Noah Shalom and Sam Hambrecht as the three sailors.
"We are passionate about supporting the historical preservation of the men and women who gave their lives while serving in the armed forces," said Steve Grodt, Marketing Manager at Chroma Systems Solutions. "We are proud of this film's accolades and that it has found its way into the GI Film Festival."
The GI Film Festival (GIFF) is a 501 c(3) non-profit educational organization dedicated to sharing the military experience in and out of the arena of war.  The festival is the first in the nation to exclusively celebrate the successes and sacrifices of the service member through the medium of film. The 2013 GIFF takes place May 6-12, Washington, DC. "Dog It Down" shows Saturday, May 11 at 9:45AM (EST). For more information please visit https://gifilmfestival.com.
For more information on "Dog It Down", please visit https://www.dogitdown.com.