Programmable simulation of AC mains and line fault conditions
Programmable AC Power and Regenerative Grid Simulators with a wide range of voltage, current, and power for simulating AC mains and line fault conditions. Choose from single and three phase output AC power sources with power levels range from 500VA to 630kVA for design validation, production, and education either in the lab or in automated testing applications. Built in 16-bit measurement circuit and firmware utilities to measure true RMS voltage, current, true power, VA (apparent power), VAR (reactive power), power factor, current crest factor, peak repetitive current and inrush current.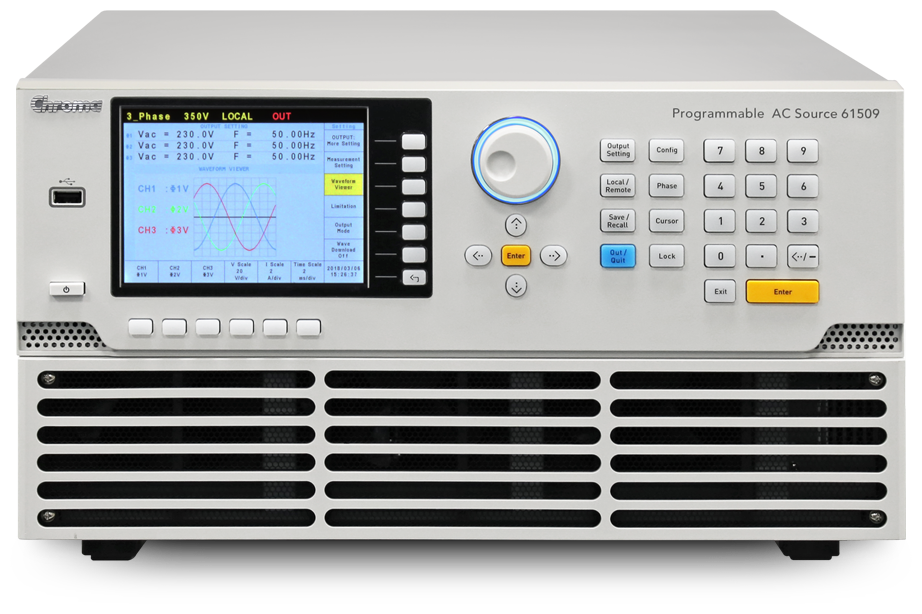 Our AC Power Sources are designed to satisfy both automated test system and laboratory benchtop requirements.
Programmable voltage and current limit
Programmable slew rate for changing voltage and frequency
LIST, PULSE, STEP mode functions for testing Power Line Disturbance (PLD) simulation
Voltage dips, short interruption and voltage variation simulation
Harmonics, inter-harmonics waveform synthesizer
Remote interfaces: GPIB, RS-232, USB and Ethernet
AC Power Application Notes
Browse application notes related to AC Power Sources. Chroma's application notes provide insight and context to assist test engineers with a particular technology, instrument, or application for their bench-top, R&D, design verification and/or ATE requirements and specifications.